Showcase replay now available
To view a replay of the mHealth Technology Showcase, go here. 
Links to speaker slides, descriptions of the technology that was demonstrated and posters that were presented go here
Getting to NIH | Plan Your Trip | Campus Access and Security | Parking | Campus Shuttle | Lodging
Information about the Venue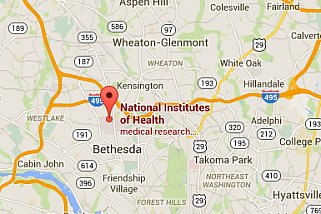 The 2018 NIH mHealth Technology Showcase for Health Research will take place in the Strawman Natcher Auditorium on the campus of the National Institutes of Health in Bethesda, Maryland, about 10 miles from the center of Washington, D.C. See a map.
More about the Natcher Building
Here is information about the NIH campus, taken from the NIH website: 
Getting to NIH
Driving to NIH
When driving to NIH, plan some extra time to get through the security checkpoints at the visitor entrances to campus. Be aware that visitor parking lots on the NIH campus can fill up quickly. Consider taking public transportation as an alternative. Links below are external.
• Driving directions 
• NIH Radio (AM 1660) highway advisories 
• Traffic, roadwork projects, and construction updates 
• Map of NIH facilities in the Bethesda area 
• Visitor map (for the NIH campus) 
• Building accessibility maps 
• List of all NIH facilities 
Public Transportation
Metrorail service is available from Washington's National Airport and from Union Station (railway). Take Metro's Red Line to the Medical Center Station. The station's escalators come out on the NIH campus. To get to Building 10, walk from the top of the escalators past the bus stops down South Drive. Cross the street and veer right onto Center Drive (past the Anchor). Remain on Center Drive as it veers left and uphill. The NIH Clinical Center (Building 10) is at the top of the hill on the left side of Center Drive. Or just take the NIH campus shuttle bus which provides service to Building 10 and stops at the Metro station every 15 to 20 minutes. Links below are external.
• Metrorail & Metrobus
• Montgomery County Ride On Bus and Transit Services 
• NIH Campus Shuttle Schedules 
Plan your trip
Links below are external.
• Operating Status for federal agencies in the Washington, DC area 
• Downtown Bethesda information 
• Washington, DC tourism information
Campus Access and Security
 The National Institutes of Health, like all Federal Government facilities, has instituted security measures to ensure the safety of our patients, employees, guests and facilities. Please visit the Department of Homeland Security National Terrorism Advisory System (NTAS) site to learn more about any current terrorist threat alerts for government and public entities that may impact NIH security.
All visitors must enter through the NIH Gateway Center. You will be asked to submit to a vehicle or personal inspection. Visitors over 15 years of age must provide a form of government-issued ID such as a driver's license or passport. Visitors under 16 years of age must be accompanied by an adult.
Please be aware: Federal law prohibits the following items on Federal property: firearms, explosives, archery equipment, dangerous weapons, knives with blades over 2½ inches, alcoholic beverages and open containers of alcohol.
Visitors are encouraged to use public transportation such as the Metrorail subway system which has a convenient stop (Medical Center) on the NIH campus. Visit the "Metro" site for information on fares and schedules.
Read the NIH list of Frequently Asked Questions (FAQs) related to safety and security at the NIH, including information about pedestrian entrances, parking and general campus access.
NIH Gateway Center
Visitors will be required to show one (1) form of identification (a government-issued photo ID-driver's license, passport, green card, etc.) and to state the purpose of their visit.
The NIH Gateway Center is located adjacent to the Medical Center Metro Station at the South Drive entrance to campus from Rockville Pike / Wisconsin Avenue (Route 355). It combines visitor parking, non-commercial vehicle inspection and visitor ID processing, all in one location. The NIH will process all visitors in vehicles or as pedestrians.
REAL ID
The REAL ID Act prohibits federal agencies from accepting for official purposes driver's licenses and identification cards issued by states that do not meet the law's standards for secure issuance and production. While American Samoa, Illinois, Minnesota, Missouri, New Mexico, and Washington currently do not comply and do not have an extension from DHS, NIH is currently accepting driver's licenses from these states and territory. This may change based on the Office of General Council's (OGC) interpretation of the law.• Closed on Weekends and Observed Holidays
• After 10pm on weekdays, all day weekends and holidays, pedestrian visitors should enter campus via the Commercial Vehicle Inspection Facility (CVIF) – Building 67 (on Rockville Pike between North Drive and Wilson Drive)
For individuals arriving as pedestrians, the Gateway Center (Building 66) is capable of handling single individuals to large busloads of visitors, quickly and efficiently.
Vehicles
For visitors arriving in vehicles, on motorcycles or bicycles, the Gateway Vehicle Inspection Station (Building 66A), provides multiple inspection lanes and allows visitors to go through inspection and get a visitor badge in one centralized, efficient process. Vehicles enter the Gateway Center complex through "NIH Gateway Drive," just south of the intersection of South Drive and Rockville Pike. Vehicles that choose to bypass parking in MLP-11 will go through inspection and enter campus at Center Drive near the National Library of Medicine. (See Gateway Map)
Gateway Center Vehicle Inspection (Building 66A)
Hours of operation: Monday–Friday, 5am–10pm
After 10pm on weekdays, and on weekends and holidays, visitors in vehicles should enter via the Commercial Vehicle Inspection Facility (CVIF) – Building 67. The CVIF is located on Rockville Pike (Route 355) between the North Drive and Wilson Drive employee entrances. Visitors gain entry into the CVIF traveling southbound on Rockville Pike.
Taxies may enter campus via the Gateway Center Vehicle Inspection Center (or CVIF), and must use the CVIF when the Gateway Center Vehicle Inspection Center is closed.
Parking
Please note: visitor parking is limited at NIH. Visitors are encouraged to use public transportation such as the Metrorail subway system which has a convenient stop (Medical Center) on the NIH campus. Visit the "Metro" site for information on fares and schedules.
The Gateway complex also includes MLP-11, a 342-space, multi-level underground parking garage. This visitor-only lot is the primary visitor parking for the NIH main campus. We strongly encourage all visitors to park in this garage as there will be limited visitor parking on campus, other than for patients and visitors to the Clinical Center. Vehicles parking in MLP-11 are outside of the perimeter security and will not go through vehicle inspection, reducing the amount of time it takes to get on campus.
The cost to park in MLP-11 is $2 per hour for the first three hours, $12 maximum for the entire day. This is the same rate currently charged for all visitor parking at the NIH.
Visitors parking in MLP-11 should proceed to the Gateway Center to get a visitor badge and either walk or take a shuttle bus to their destination.
MLP-11 Hours of Operation:
Monday–Friday:
6am–9pm (entrance)
6am–11pm (exit)
Saturday–Sunday:
Closed
When MLP-11 is closed, visitors can park in lots on the NIH main campus.
Vehicles left in the MLP-11 parking garage after 11pm on weekdays or during weekends are subject to ticketing and towing.
Shuttle
Shuttle services are provided throughout the day on the NIH Campus for employees, patients, and visitors.
Additional shuttle services are provided to the following locations: Montrose, Executive Plaza, and Rockledge. Shuttle services are available Monday–Friday, except Federal Holidays.